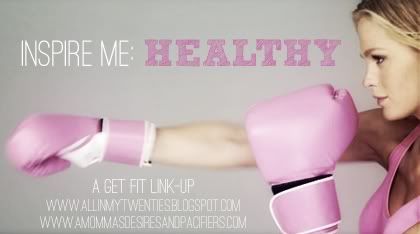 Last week we linked up with Kristen and this week we are linking up with my fave bish, Raven! I absolutely love talking about health and fitness, so these link ups are going to be so much fun for me.
Instead of posting pictures of the results I don't have yet, I decided to post about different meals that are staples in my house, along with my new workout gear. Last week was mostly words, this week is mostly pics.

Weekdays: Breakfast Smoothie
 Recipe:
1/2 banana
3 Strawberries
3 Blackberries
4 Raspberries
Handful of blueberries
2 tb ground flaxseed
1 Scoop
vanilla protein powder
1 Tb Peanut Butter (I use Smart Balance for the extra Omega 3s)
Handful of Kale
Handful of spinach
3/4 c Coconut Water
4 ice cubes
Weekends: Magical Eggs
JB doesn't like to take time to prepare anything, he just likes to eat as soon as possible. When he makes breakfast on the weekends, it's eggs and cheese and that's it. I made this for him once and now I am stuck with weekend breakfast duty. He calls them Magical Eggs. The time (which really isn't much) is definitely worth it. For 8 eggs I use a couple of green onion stalks (chopped), 6-8 grape tomatoes (sliced), spinach (sliced), a little bit of sea salt and pepper and a little shredded cheddar cheese. I put some grass-fed butter in the pan, sautee the spinach and onions for a couple of minutes and then add the rest and scramble. Top with half an avocado and throw some berries on the side. Yummy!

Dinner/Leftovers for Lunch: Turkey Burgers
 One of our favorite meals is turkey burgers topped with avocado and feta. We usually eat these with the chipotle spiced sweet potato fries. Hubs usually makes these so I don't know what all goes in them except garlic powder, parsley, and balsamic vinegar. They are so delicious!!
Dinner: Rotisserie Chicken/Turkey Salad
If you follow me on Instagram (@brezpics) you have seen me post this salad a couple of times. I just use red leaf lettuce and spinach for the bed and top it with grape tomatoes, cucmber, red bell pepper, strawberries, almonds, avocado, and feta. We grab a rotisserie chicken or turkey breast at the store which usually provides a couple of days of meals. I slice that up and throw it on top and use Newman's Own Organic Balsamic Vinaigrette. Mmmmmmm...

Farm Fresh To You Produce Delivery
A month ago we were leaving the gym and these guys had a table there and were trying to sign up new customers. Pretty genius idea if you ask me since people going to the gym are already trying to better their lifestyle and you know the grocery stores wouldn't be happy with you posting up outside. I had talked to JB a couple of times about doing this eventually and we never pulled the trigger. I'm so glad we finally did.
We get the Fast Fruits & Veg box delivered every two weeks. On the left is the packing list so you can see what all we got in there. We figure we spend at least $60 on produce in a month, and at least this way we know where it is coming from and that it's organic. With your online account, you can set up your preferences so they will avoid giving you things you don't like. This week's delivery had canteloupe and hubs isn't a fan, so they left that out of ours. So far we love it! It incorporates more fruits and veggies in our lives that I wouldn't normally pick up at the store. I don't know about you, but if I don't know how to tell when something is ripe, I won't buy it. They also have tons of different recipes online!

New Workout Gear!!
I told you last week and once before that I have been doing the bodyrock.tv workouts at home. We have some different hand weights and I have used chairs and the coffee table and different things for some of the exercises when they have been using these items. I finally got to order mine and am really excited to take my workouts to the next level. The fact that they are pink just makes me so happy, I can't even stand it! The item in the front is the
Ultimate Sand Bag.
We actually got all three of them (power, strength, burly) because JB and I will use them for workouts other than bodyrocking. The item above it is the
Lebert Equalizer.
I included the pics that were on the box so you can see some of the different ways you can use it. It's very versatile. It's also lightweight so we can take it up to the park with us and our sandbags and do workouts there. Yesterday I used my sandbag (currently holds 15lbs, but can hold up to 30 lbs) to do this workout:
The sandbag definitely makes a difference. I can't wait to incorporate it more! I will leave you will a great pic I saw on FB the other day:
Hope you are all having a great week. Can't wait to see some of your updates if you are linking up with the ladies!!